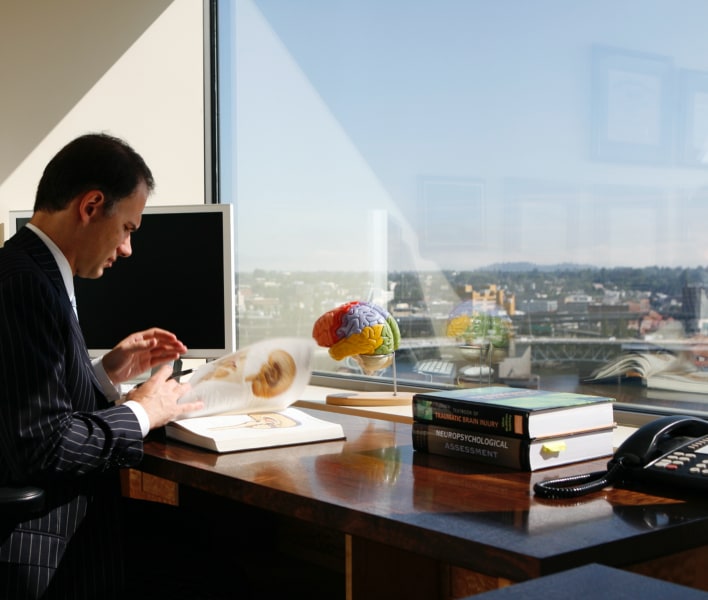 DeShaw Law offers something special to people with serious personal injuries from motor vehicle collisions or as a result of medical malpractice. Dr. Aaron DeShaw, Esq., our lead lawyer, is both a doctor and a lawyer. The combination allows our firm to fully understand the wide variety of health problems that can result from an injury.
For much of his career as a doctor, Dr. DeShaw specialized in the diagnosis and treatment of traumatic injuries including brain injuries and other neurological injuries resulting from motor vehicle collisions. For this reason, our legal practice focuses on insurance claims regarding these same type of injuries. See the personal injury cases we handle as lawyers.
It is for this reason that over the course of the history of this law firm, friends, family and physicians have entrusted people they care about to our firm when they are seriously injured.
Our Mission
Dedication to serving your personal injury needs
You may also find our philosophy a bit different than other law firms. Often busy personal injury firms will accept 250 or more clients per lawyer then hand off case handling to a team of legal assistants or paralegals. Instead, our lawyers limit our firm to representing a small number of seriously hurt clients at a time (sometimes as few as 25 cases per lawyer), to ensure that each client receive quality personal service. Typically the cases we accept are ones in which serious or complex medical conditions have arisen as a result of a traumatic injury or medical malpractice, that would require our specialized background. It is due to this commitment to excellent quality service that instead of the typical brief initial consultation with clients, where sometimes you never meet the lawyer, client intake meetings at our office can take between 45 minutes and five hours personally with Dr. DeShaw, one of our other lawyers, or both, depending on the complexity of your injuries and your case.
Our Mission
Lawyers meeting the challenges of the insurance industry
The insurance claims process is rapidly changing. These changes are aimed at cutting claims values regardless of the merits of the injured person's claim. What worked 10 years ago for law firms and injury claims, no longer is effective in the modern insurance environment. Instead of clinging to what may have worked in the past, we have faced these challenges head on. DeShaw Trial Lawyers work diligently to provide modern insurers the appropriate information necessary to allow for a full and fair evaluation of your claim to provide the insurer the best possible opportunity to fairly settle a claim. But, many insurers have turned to evaluating claims not with a human, but instead a computer system, in order to reduce settlement offers to unreasonable amounts. As a result, we take a special approach with these cases.
Dr. DeShaw is at the forefront of this movement and is a nationally recognized expert and lecturer on the topic of insurance claims practices. He has lectured at the annual auto accident convention of the Association of Trial Lawyers of America, and at the National Institute of Trial Advocacy. He is the author of two leading legal texts published by Trial Guides, one of which is the authoritative text on the topic of computer systems used by insurers to evaluate injury claims. He has been published in twelve national and state legal journals on the topic on insurance company claims practices, and is co-counsel in a number of major national cases against insurers. We use our expertise in how insurance companies handle claims to provide you the best chance possible of settling your claim for a fair amount.
Our Mission
Not just personal injury lawyers: Trial lawyers
Our attorneys believe that not every case should be settled for whatever small amount of money the insurer will offer, simply to avoid the risk and extra work of going to trial. When your life has been permanently altered, as most of our clients lives have been as the result of another person's negligence, we believe that settlement is only an option when the amount offered is reasonable for the permanent change in quality of life sustained by our client. When the settlement offer is unreasonable for the actual injury sustained, and the financial losses you will sustain as a result, we take the case to trial, so that a jury of your peers can evaluate a fair value for your injuries.
Unfortunately, there are very few lawyers who actually go to trial, leading insurance companies to devalue cases handled by those lawyers regardless of the merits of the case. DeShaw Trial Lawyers has built a reputation on representing quality people who are legitimately injured. We will take any case we accept all the way through jury trial if the insurer does not treat you fairly.
Our Mission
Become a client
While our new client meetings most often take place in our office in Northwest Portland, our attorney is also available to meet with you in the hospital, assisted care facility, or your home if you are physically unable to visit our office. We also acknowledge that certain injuries, or doctors restrictions, will not allow some potential clients to visit our office. In that situation, we will arrange a meeting location suitable for your medical condition. Either way, the initial phone consultation, and the initial personal consultation, are free. You have no risk, and no obligation by calling to discuss your case.
Our Mission
How can I get help?
For more information, please contact us or call our office at 866.THE.FIRM (843.3476) for a free consultation.