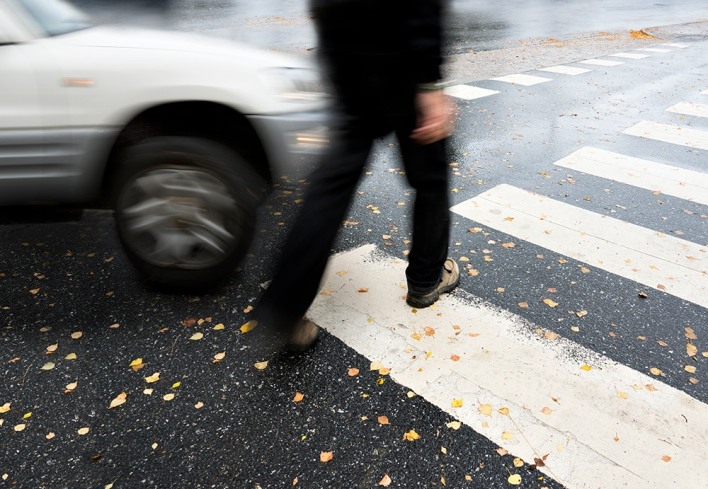 Being hit by a moving vehicle can be at the very least terrifying for an innocent pedestrian – and at worst, it can be fatal. Pedestrian injury accidents often result in serious personal injuries. Over 110,000 pedestrians are injured every year in this country and nearly 62,000 are killed. People of all ages are affected by these staggering statistics, but school-age children and the elderly are the most vulnerable. In fact, over 1/3rd of pedestrian-related collisions happen when children are leaving school and walking home. Many times the collision is caused by a careless driver who ignores traffic signals or overlooks the pedestrian entirely. This kind of collision and the pedestrian injuries that result are entirely preventable. Leading Oregon injury attorney Dr. Aaron DeShaw believes that drivers violating pedestrian laws should be held accountable for their negligence and inattention.
Pedestrian injury cases are not as easy as they might seem. It is difficult to win pedestrian cases if you cross the road outside a crosswalk. It is also more difficult, if you enter the crosswalk on a flashing "do not walk" signal. However, there are notable exceptions that protect injured pedestrians. An experienced pedestrian accident lawyer will be able to effectively evaluate your case. Even in the event that you did enter on a clear Walk signal, in a crosswalk, the insurance company for the driver will often find a witness to mislead the jury that you did something wrong.
If you obeyed pedestrian laws yet still were injured by a careless driver, you need to contact a qualified and experienced pedestrian injury lawyer at our firm as soon as possible. It is important to start the process immediately so that our investigators have the time to study and evaluate the evidence in order to show you were the victim of the driver's negligence and thus deserve compensation for your injuries.
Pedestrian Injuries
How can I get pedestrian accident help?
For more information, please contact us or call our office at 866.THE.FIRM (843.3476) for a free consultation.