Our Oregon personal injury lawyer is a former Doctor of Chiropractic. With over 4000 hours of study for that doctorate (more classroom hours than an M.D.), including gross anatomy (with human dissection), neurology, radiology and much more, he brings years of knowledge of human injuries to each case.
He is often called by other personal injury lawyers from Oregon, Washington, California and other states to help them understand the injuries and defense doctor testing in their cases. This allows him to take on insurance company doctors head-on when they use bogus tests to claim that a person is not injured.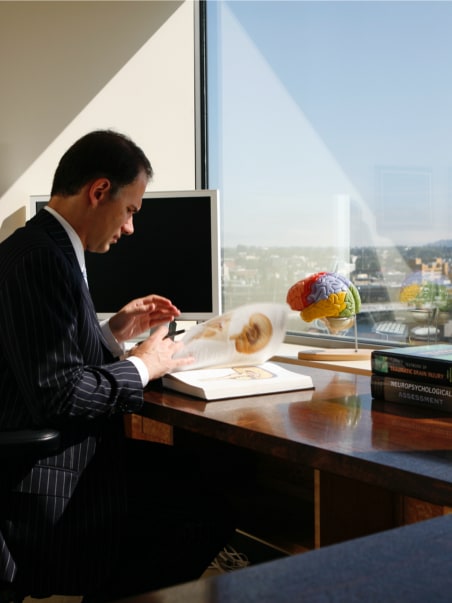 Industry Recognition
Aaron DeShaw is considered one of the most influential plaintiff lawyers in the United States through his legal publishing company Trial Guides;

"Trial Guides and its founder, Aaron DeShaw, have armed, honed, and inspired more plaintiff's attorneys than anything else this century." Leading trial consultant David Ball Ph.D., author of the landmark legal books David Ball on Damages, Reptile, and Damages Evolving.
In his role starting and running Trial Guides, Dr. DeShaw has lectured at, attended and watched videos of hundreds of hours of videos on litigation methods, and read countless historical and contemporary books on the practice of law. DeShaw often has books by leading lawyers or jury consultants one to two years before they are published to the legal profession as they go through development. He integrates the best parts of these new techniques into his legal practice. The overall effect of his deep immersion into litigation, allows him to call upon the wisdom of generations of trial lawyers when he faces an issue. This is particularly important during trials in Oregon which is one of three states that still use "trial by ambush," where there is little or no notice about who is testifying on behalf of the insurance company, or what they will say.
It is because of our commitment to our skills in both the health care and legal field, and using that knowledge to the benefit of our injured clients that doctors and other lawyers entrust us with their most serious case referrals.
It is also why our lead attorney has been selected for the American Board of Trial Advocates - an honor provided to only 90 trial lawyers and judges in the State of Oregon from all disciplines of law. Aaron DeShaw has additionally been selected by lawyers, opposing lawyers, mediators, arbitrators and judges to Super Lawyers in multiple years. Dr. DeShaw is asked to lecture nationally and internationally to both legal and physician professional organizations because of his expertise in a wide variety of topics including everything from trial methods and settlement demand letters, to a wide variety of topics regarding traumatic injuries.
Free, No-Risk Consultation
If you or someone you know needs a personal injury attorney for a serious injury, please call us at (503) 227-1233. The initial call, and consultation with a lawyer are available to you for free, and with no obligation to hire us.