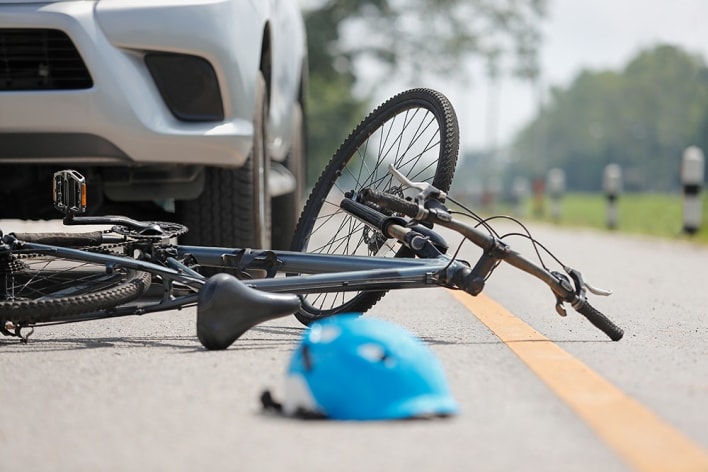 Portland, Oregon is synonymous with bicycling. In 2008, Portland become the first major American city to be awarded the "Platinum" ranking by the League of American Bicyclists, and currently boasts more commuting cyclists than any other city in the United States.* Unfortunately, as a result of the sheer number of cyclists on its roads, Portland is also home to a relatively large number of bicycling accidents.
Bicycle Accidents
Oregon Cyclists and Motorists Have Equal Rights
Oregon law clearly states that people riding bicycles on Oregon roadways have the same rights and responsibilities as the drivers of any other vehicle operating on the highway (See ORS 814.400). Nonetheless, it has been the experience of our bicycle accident lawyers that insurance company representatives and defense attorneys have been known to misinterpret your rights or misconstrue something you say or do at the scene of the accident, when you are still in shock.
If you don't protect your rights, you may not be able to recover the money necessary to cover your medical expenses and injuries. Since most of our clients have catastrophic injuries or are killed due to careless actions by others, we have experience handling the most severe injury claims.
Bicycle Accidents
Bicycle Accident Cases are Unique
It doesn't take a rocket scientist to know bicycle accidents aren't like auto accidents. Not only can the personal injuries be be incredibly severe and the insurance issues confusing, but breaking down how the crash occurred can be complicated. Insurers and defendants love to point the finger of blame at cyclists. For that reason, our attorneys work closely with epidemiologists and crash reconstructionists to determine precisely what happened during your collision.
Because of the shock and physical trauma associated with serious cycling crashes, a high percentage of injured cyclists will not accurately remember the details of the crash. Leading Oregon bicycle accident lawyer Dr. Aaron DeShaw Esq strongly encourages you to not delay in seeking legal representation if you have been involved in a cycling accident.
Bicycle Accidents
Bicycle Accident Cases are Personal at Dr. Aaron DeShaw Esq P.C.
Bicycle Accidents
How can I get help?
Our Oregon and Washington bicycle accident attorney Dr. Aaron DeShaw has the knowledge and experience to help you. Please feel free to contact our bicycle accident attorneys toll-free at 866.THE.FIRM (843.3476) or complete the online attorney consultation form.