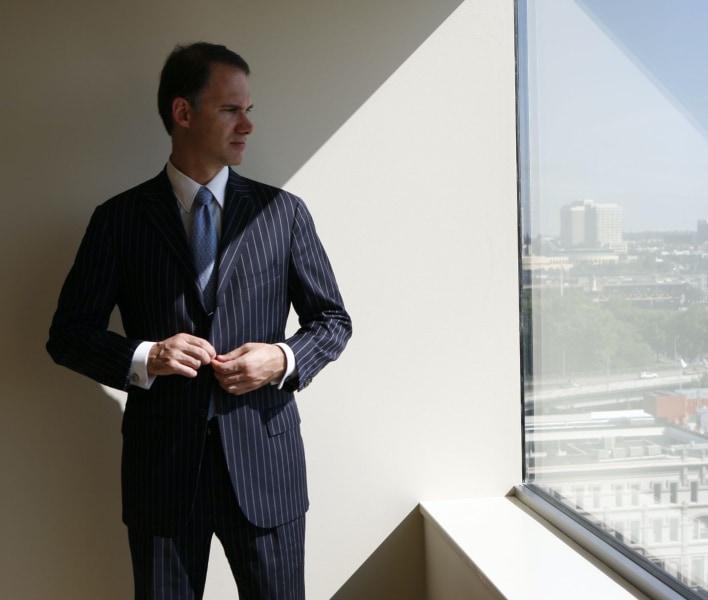 Dr. Aaron DeShaw, Esq. is an award winning trial lawyer based in Portland, Oregon. He is one of few lawyers in Oregon to be awarded the Presidential Award by the Oregon Trial Lawyers Association for lifetime achievement in the field of law. He is one of few Oregon lawyers and judges selected for the American Board of Trial Advocates, and has been named to Super Lawyers (the Top 5% of Oregon lawyers) in multiple years. He is the leading author in the U.S. on the subject of insurance bodily injury claim software (including Colossus, Liability Navigator and ClaimIQ), the computer software systems used by most auto insurers in the United States for evaluating personal injury claims. In the past, Dr. DeShaw has served as a resource for media such as CNN, MSNBC, BusinessWeek, A.M. Best, and other national media on the topic of insurance claims practices.
DeShaw is considered one of the most influential plaintiff lawyers in the United States through his legal publishing company Trial Guides; "Trial Guides and its founder, Aaron DeShaw, have armed, honed, and inspired more plaintiff's attorneys than anything else this century." Leading trial consultant David Ball Ph.D., author of the landmark legal books David Ball on Damages, Reptile, and Damages Evolving.
Aaron
Doctor and Lawyer
Aaron holds a Doctorate of Chiropractic from Western States Chiropractic College and a Juris Doctorate from Willamette University College of Law. As a doctor, he practiced in five countries treating people from over 100 nations. He has lectured for both physician and legal professionals including for Trial Guides, the American Association for Justice (AAJ), The Association of Trial Lawyers of America ("ATLA"), Torts Made Perfect, 360 Advocacy, multiple state Trial lawyer Associations, the North American Brain Injury Society (NABIS), The Brain Injury Association of California, the Spine Research Institute of San Diego's Annual CRASH seminar (involving live subject crash testing), the Brain Injury Alliance of Oregon, as well as private seminars before the nation's top insurance bad faith lawyers. He has lectured at events alongside Brian O'Neill (President of the Insurance Institute on Highway Safety, and creator of the US crash testing program for vehicles), Eugene Anderson (called "The Dean of Policyholder's attorneys" by BusinessWeek), Rick Friedman (Past President of the Inner Circle of Advocates, and best selling legal author), Bill Barton, Mark Lanier, Dr. Art Croft (the first author of a book on "whiplash" injuries, Dr. Muriel Lezak (author of the leading book on neuropsychology), Dr. Erin Bigler (brain imaging pioneer) and many other internationally recognized experts in the area of insurance, law, traumatic brain injury, motor vehicle collision mechanics, and medicine. Aaron DeShaw no longer practices as a doctor, and has practiced law full time since 2000.
DeShaw is an advocate for brain injury survivors, speaks nationally on the issue of traumatic brain injury, and was a long time executive board member of the Brain Injury Alliance of Oregon. The Brain Injury Alliance is an association of doctors, health care providers, lawyers, family members and brain injury survivors who are dedicated to helping people with life-changing brain injuries. He has lectured on behalf of the Brain Injury Association of California, and the Brain Injury Alliance of Oregon at educational events for doctors throughout the state, including at the Veterans Administration. He regularly lectures on cognitive and behavioral changes after brain injury as well as on the topic of advanced brain imaging, and cross examining insurance neuropsychologists and psychiatrists. His lecture uncovering the "Fake Bad Scale" as junk science (often used by insurance company doctors to discredit brain injuries) was first given at the North American Brain Injury Society in New Orleans. As a board member of the Brain Injury Alliance of Oregon, he was often asked to consult families on brain injury cases, and make health care provider referrals, in cases where he never serves as the injured person's lawyer. This provides him excellent resources for his own clients when they need a health care specialist.
For most of his career as a lawyer, Aaron was a member of the AAJ Brain Injury Litigation Group, a small group of approximately 100 lawyers in the US who primarily handle traumatic brain injury cases. He is now the Chairman of the Trial Guides Brain Injury Litigation Group, another small group of brain injury lawyers in the United States who handle a wide variety of brain damage cases including traumatic brain injuries, blast injuries from natural gas explosions), brain injuries occurring from birth trauma, carbon monoxide exposure, black mold damage and other varieties of brain damage. Communication with other members of the Trial Guides Brain Injury Group allows him to get daily research on traumatic brain injuries, advanced brain imaging methods, and brain injury litigation issues. Approximately 90% of Aaron's cases involve traumatic brain injuries, with the remainder of his personal injury cases being catastrophic injuries such as amputation,quadriplegia, spinal cord injuries, and wrongful death cases. He has extensive experience doing jury trials and arbitrations on complex medical injury cases.
Aaron is one of few lawyers selected for the American Board of Trial Advocates - a group for which you must try multiple cases as a "first chair" trial lawyer, be in good standing with the state bar, receive a nomination of peers, and be approved by a national committee. ABOTA is comprised of leading civil (plaintiff and defendant), corporate, and criminal (prosecutor and defense) lawyers as well as judges in the United States. Aaron has also been elected by his peers, mediators, arbitrators and judges to Super Lawyers (Top 5% of lawyers in Oregon) in multiple years. He has some of the top motor vehicle verdicts in the State of Oregon, including record verdicts in some counties. In addition to working at his own law firms in Portland, Oregon and Seattle, Washington, he was formerly of counsel with the national law firm of Friedman | Rubin in Seattle, Washington.
Aaron
Published Texts
Colossus: What Every Trial Lawyer Needs to Know, Portland OR USA © 2004, published by Trial Guides
Colossus: What Every Physician Needs to Know, Portland OR USA © 2005, published by Trial Guides
Procedures & Billing Denials: What Every Physician Needs to Know, Portland OR USA © 2005, published by Trial Guides
Anatomy of a Personal Injury Lawsuit, 4th Ed., Portland, OR USA © 2015, published by The American Association for Justice and Trial Guides
Aaron
Published Articles
Colossus: What Every Trial Lawyer Needs to Know. Trial Trends. Montana Trial Lawyers Association. Spring 2005.
Negotiating a Non-Demonstrable Case – A Study in Colossus. Forum. Consumer Attorneys of California. June 2005.
Colossus: What Every Trial Lawyer Needs to Know. Louisiana Advocates. Louisiana Trial Lawyers Association. Spring 2005.
Colossus: What Every Trial Lawyer Needs to Know. Trial Briefs. North Carolina Trial Lawyers Association. June 2005.
Colossus: What Every Trial Lawyer Needs to Know. The Gavel. Orange County Trial Lawyers. July 2005.
Colossus: What Every Trial Lawyer Needs to Know. The Verdict. Wisconsin Trial Lawyers Association. July 2005.
Soft Tissue Cases in Colossus. ATLA Motor Vehicle Newsletter. Association of Trial Lawyers of America. July 2005.
Colossus: What Every Trial Lawyer Needs to Know. Advocate. Nevada Trial Lawyers Association. July / August 2005.
Colossus: What Every Trial Lawyer Needs to Know. The Idaho Trial Lawyers Association Journal. Idaho Trial Lawyers Association. Summer 2005.
Getting Paid in PI Cases: Top 3 Things You Need to Know. Chiropractic Economics. August 2005.
Negotiating a Non-Demonstrable Case – A Study in Colossus. Trial Talk. Colorado Trial Lawyer Association. August / September 2005.
Negotiating a Non-Demonstrable Case – A Study in Colossus. The Prairie Barrister. Nebraska Association of Trial Lawyers. Fall 2005.
Getting Paid in PI Cases: Top 5 Things You Need to Know. Journal of the Chiropractic Association of Oregon, Fall 2005.
Colossus: What Every Trial Lawyer Needs to Know. Journal of the Academy of Florida Trial Lawyers. Academy of Florida Trial Lawyers. Spring 2006.
Aaron
Personal Background
Many people assume that successful plaintiff personal injury lawyers come from a privileged life that is has been easy. That is seldom the case. Many of the top plaintiff lawyers in the country grew up very poor and have struggled like many Americans to succeed. Aaron's background helps him understand much of what his clients experience.
Aaron was born to young parents in Eugene Oregon. He was brought up in a single-wide trailer until age 5, as his father worked his way first through University of Oregon, and then Western States Chiropractic College. On the weekends his parents would work to support them. After graduation from Western States, his father worked relentlessly, giving his family the best life he could, and creating a number of successful chiropractic clinics for himself – including one of the first multidisciplinary clinics in the country featuring chiropractors, MDs, acupuncturists, naturopaths, a psychologist and rehabilitation specialists. His father worked with his maternal grandfather Ralph Schmidt and maternal uncle John Schmidt who were also Doctors of Chiropractic. All three have been president of the Oregon chiropractic associations, and his grandfather was President of the American Chiropractic Association in 1969.
Aaron started working at age 8 in his family's Christmas tree fields. He would continue in that work raising some of the best trees in Oregon, on 60 acres of farms in the Silverton area for the next 15 years. He started driving a tractor a few years later, tilling the ground between the trees, and preparing fields to plant. He saw the trees through every season including planting seedlings, trimming, shaping, topping, harvesting, and shipping. By age 12 he was running crews in the operations of the fields and harvest. He knows what it means to be knee-deep in the mud, with rain blowing sideways, and to keep going for 15+ hours a day. He continued raising and harvesting Christmas trees until age 23.
At age 12, he started playing guitar to join a band with his best friend since age 5, who has gone on to become a classical bassist with the Ft. Worth Symphony. Aaron dedicated much of his childhood to raising trees and playing guitar, learning to play songs by ear.
In the late 1980s, he started building custom made electric guitars and basses from Oregon grown woods. He was one of the first instrument makers to implement the use of carbon fiber necks on his instruments. He would attend the annual National Association of Music Merchants convention during this time, and continued this until the early 1990s.
After college at Willamette University, Aaron chose to follow his grandfather, uncle and father into the chiropractic profession, and entered Western States Chiropractic College in Portland in 1989.
In early 1990, life was changed when Oregon workers compensation insurer SAIF corporation planted undercover agents as injured people in several chiropractic clinics and law firms in Oregon in a sting operation under the name "AMF, Inc." (which stood for "Adios Mother F**kers"), intended to shut down injured workers rights in Oregon. Despite getting no evidence of false claims, SAIF sued Aaron's father for racketeering, along with 14 other doctors, in a move aimed at ending workers' ability to receive adequate treatment for their injuries. The public relations ploy resulted in the quick passage of SB1197, which effectively killed meaningful compensation for injured workers in Oregon, and has remained in place since 1990. Aaron, one year into his doctorate education at Western States Chiropractic College, helped his father's legal team, and reviewed over 20,000 billing statements requested by the insurer. In total, three accounting errors were found over a several year period, and SAIF's fraud case mainly was based upon his father giving free chiropractic adjustments to patients on their birthday. But, the accusation and the impact was profound on his father's practice, and more profound for every person injured on the job in Oregon since 1990.
Aaron joined his father's practice in 1993, after passing an Oregon Board of Chiropractic Examiner's licensing examination in which only 5% of the test subjects passed. Rather than providing chiropractic treatment, Aaron primarily did examinations on new patients involved in motor vehicle cases, as well as industrial employment screening, Department of Education examinations, Deportment of Transportation examinations, AMA permanent impairment ratings, as well as breath alcohol and lab testing after a commercial trucking crash or industrial accidents. Over the three years he worked at Northwood Health Center, he became known for diagnosing difficult cases involving brain and neurological injuries and then working with specialists to correct the problems. He became a "go to" doctor that other doctors referred to when a person's injuries were difficult to diagnose.
Between 1993 and 1996, Aaron found that auto insurers simply refused to pay his bills, expecting that the attorneys on his patients' personal injury cases would never pay for his services because he was a chiropractor. Insurers would send nearly every one of his patients to insurance doctors to terminate their care. Aaron would file complaints with the Oregon chiropractic and medical board and neither board ever took action against a single insurance doctor for improper termination of injured people's health benefits. As a result, these injured people, often with permanent injuries, couldn't get the care they needed to recover and became permanently disabled. It later turned out that the state's largest auto insurer was sending the patient termination reports off shores to be written by non-physicians, and that insurance doctors were "rubber stamping" the termination reports. It was clear that the insurers had no respect for the injured people they had promised to help in exchange for insurance premiums, and that Oregon licensing boards wouldn't do anything to protect them. And, it became clear to Aaron that continuing a career in this field was a complete waste of his time.
Aaron graduated law school in late 1999.  He completed his career as a Doctor of Chiropractic in London in April 2000, and returned to Oregon to practice law.   He started his own firm in June of 2000 and has worked for himself ever since.
At the same time he was practicing as a chiropractor, he was also involved in promoting the northwest music scene in the early 1990s, serving as an advisor to major record labels seeking acts to sign. He recorded and engineered a number of recordings in the early to mid 1990s, and worked with one of the first companies in the world to stream music via the internet in 1993 – eight years before iTunes and the iPod were released. (If you think the internet is slow now, try remembering what it was like in 1993 – downloads of one song took over an hour!)
In 1996 while still working as a doctor, and disgusted with the insurance industry's treatment of injured people, Aaron quit practice as a doctor in the United States. He took a temporary job as a doctor in Ireland, and applied to law school. At the time, he was only one of eight chiropractors in the country of Ireland. He then took over a clinic in Belfast, Northern Ireland during the civil war, until he was accepted for law school at Willamette University College of Law. There were less than 10 chiropractors in Northern Ireland at the time, and Aaron was the only American for most of the time he practiced there. He went through several periods of conflict in Northern Ireland, during which the Orangemen and IRA caused riots, one of which almost ended his life.
Once accepted to law school in Oregon, Aaron continued to work every break (Summer, Winter and Spring break) as a doctor in Europe. Together with doctors from Canada, and Australia, Aaron helped develop a string of clinics in Ireland, Northern Ireland, Scotland and England, creating the largest group of chiropractic clinics in the United Kingdom. He commuted back and forth until May 1998, when he transferred to the London campus of Pepperdine School of Law and started running a clinic in London at the same time. They were hectic days both treating patients and attending law school in the afternoons and evenings. He worked six days a week and attended class and studied on top of it, often putting in over 100 hours a week, plus commuting between his clinic in Kingston and Pepperdine's campus in South Kensington via train. Toward the end of 1999, he also added shifts at The Hale Clinic, a private multidisciplinary clinic in London, which at the time featured some of the world's greatest doctors and therapists.
Aaron did not intend to become a personal injury lawyer when he went to law school. He was, instead, intent on becoming an entertainment agent, and broker film and music deals. He had talked to the entertainment agency Creative Artists Agency and had intended on becoming an entertainment agent there after law school. He became involved in the entertainment industry while in London and spent time with agents, actors, directors and musicians.
In his final year of law school, one of his instructors, who had served as musician Peter Gabriel's manager for many years, urged Aaron to use his diagnostic talents as a doctor to go into a field of law where he could truly help people who needed him. She suggested that it would be a more worthwhile life than catering to celebrities.
Aaron graduated law school in late 1999. He completed his career as a Doctor of Chiropractic in London in April 2000, and returned to Oregon to practice law. He started his own firm in June of 2000 and has worked for himself ever since.
At first the cases were small, but over time doctors recognized Aaron's ability to really understand complex injury cases, and see his hard work on behalf of his clients. But, his bigger desire was to understand why injured people were treated so badly by insurers.
In 2001, an important event changed his life. He was called by a chiropractor, asking about an insurance program called Colossus. Aaron didn't know anything about it, but when he started researching it, there was nothing about the program available. Why would it be hidden? He started to dig. Then he started asking lawyers. No one he talked to knew anything about the program. One lawyer suggested that he talk to a former claims adjustor from Allstate. Then that adjustor suggested another adjustor who had worked for Farmers. Aaron started interviewing former adjustors from Farmers and Allstate about the Colossus program. It turned out that Colossus was a computer program used to evaluate approximately 60% of the auto claims in the United States. And no one seemed to know anything about the program in the legal field. Interviews with adjustors started to make clear that insurers could simply program the computer to underpay every claim by whatever percentage they wanted to underpay the claim – in some cases up to 20% less than what they knew the value should be. Aaron started collecting unprotected documents, and depositions from the few cases that had ever looked into the use of Colossus at Allstate. Then case files from a small number of litigation cases all over the country. Then he started collecting information from Australia, where the Colossus program was created, and in other countries where the program was being used. He was provided a treasure trove of documents from the original programming of Colossus and found out how it was improperly evaluating claims. From 2001 to 2004 he wrote two 400+ page books – one for doctors and another for lawyers on the Colossus program. Between writing and practicing law, he was working in excess of 100 hours a week. Thankfully, the books sold very well. Aaron's books on Colossus continue to be used as the basis for most lawyers' web site content about Colossus in the United States, as well as a lot of "vanity books" that law firms give away free to induce new clients to sign up for their services.
In 2004, just as the final version of the book was about to come out, Aaron was asked to consult on the national class action case Sikes v. Farmers about Farmers Insurance's use of the Colossus program to underpay claims to its policyholders. Aaron's book was used as the center point of research for the case. Through his interviews, he knew that Farmers had set the claim software to underpay every claim on purpose – thereby intentionally underpaying the company's own policyholders. Because Aaron had conducted interviews on key witnesses, and could become a material witness himself in the case to verify what they said, ethics rules prohibited him working as a lawyer on the case. Instead, he consulted with the legal team. Sikes v. Farmers reportedly settled for $151 million in payments to Farmers' policyholders thanks to excellent work by the Oklahoma firm of Whitten, Nelson, McGuire, and resulted in Farmers ending its use of Colossus to evaluate their own policyholder cases. Aaron didn't get paid for his work on that case, but it was great to see an insurance company get caught, and to make sure they (temporarily) stopped intentionally underpaying their own policyholders. (Farmers later just adopted another system to do the same thing.)
In 2005, the case of Hensley v. CSC was filed with Aaron's firm as one of four main firms involved. The Hensley case was again based upon the topic and material in Aaron's book. This time, the claim was against the manufacturer of Colossus, other bodily injury software vendors, as well as over 580 different insurers using the programs to intentionally underpay claims to policyholders by billions of dollars. The team of four firms, reviewed millions of pages of documents between 2005 and 2010, resulting in payments of over $1 Billion to policyholders who had been underpaid. Hensley was split off into multiple other cases when the different insurance companies settled.
Just after the Hensley case was filed in 2005, President George W. Bush signed the "Class Action Fairness Act" preventing Aaron's team from filing several more class action cases to prevent other fraudulent conduct by insurers on home and auto claims. This act of "tort reform" was enacted to prevent citizens from making claims against corporations for corporate decisions that impacted people throughout the United States. "CAFA" made national class action cases very difficult, making it unreasonably expensive to file cases against insurers or other corporate entities state by state. Aaron had several more great cases that were never able to move forward on behalf of those defrauded by insurance companies. The passage of CAFA in 2005 made it very difficult for consumers and their lawyers to stop corporate fraud.
In his legal career, Aaron DeShaw has individually and with other firms recovered over $1 billion for his clients in individual and class action cases. He has several of the Top 50 motor vehicle verdicts in Oregon state history, and has the record verdict in Columbia County. Despite Oregon's statistic as the 7th lowest state for auto case outcomes according to the Insurance Research Council, Aaron has several verdicts and settlements in excess of $1,000,000. He has been selected by his peers for Super Lawyers, signifying him as being in the top 5% of all lawyers in the State of Oregon.
Aaron built a publishing company around the Colossus products called Trial Guides. In the years since his original books were published in 2004, Trial Guides has gone on to become the most important publisher of plaintiff lawyer publications in the world, featuring the best selling books by the leading trial lawyers, jury consultants and litigation experts in America. Aaron is personally credited in many of the top litigation books in the country. In 2010, Trial Guides was selected as the new publisher for the American Association for Justice after the association discontinued its relationship with West Publishing (Thomson Reuters), and Aaron became the head of AAJ's publisher. At one point Trial Guides was one of the top 1000 eCommerce companies in the United States, despite Aaron only running it part time. Aaron now provides primarily supervisory oversight of the company and is less involved in the company's daily operations. Aaron's role at Trial Guides ensures that he is aware of the newest and best litigation methods long before they are ever released to other lawyers.
Through his connections at Trial Guides with many of America's leading lawyers, trial consultants, and expert witnesses, Aaron has a deep understanding about what is happening in the practice of law and is on the cutting edge of how to successfully try cases. He is not a fan of "conveyor belt justice" or "settlement mills" which is why Trial Guides focuses on products for America's best lawyers who want to help every client with their individual personal loss. As a former doctor, he knows that every person is unique and important, and that lawyers should always fully consider how the client is being impacted before they settle.
Aaron is also a full-time single father with sole custody of his two youngest children. His role as a father is the most important part of his life.
Through his role as a single parent, trial lawyer, publisher and speaker, Aaron has maintained a very heavy schedule since the mid-1990s. He is very careful in selecting the people he will represent with his limited time. He is known to drop clients who have misled him, and insurers and defense counsel know that when he takes a case, the facts are solid.
Every few years, he finds a bit of time for large scale photography when he travels. Some of Aaron's photographs now hang in the law firm, and are often a center point of conversation with doctors, lawyers and judges who visit the office. He occasionally still picks up a guitar or bass to play music with friends, or around a campfire.