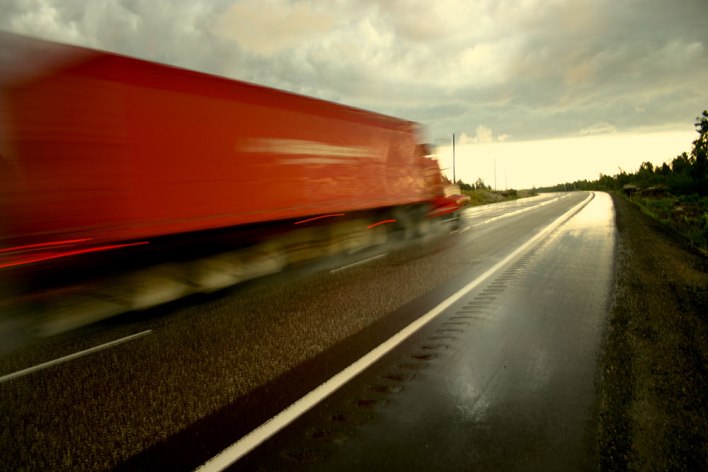 Trucking accidents are not like most motor vehicle accidents. Likewise, the Oregon trucking injury lawyer you choose, should not be the same as you would choose for a car crash. It it critical that the attorney you entrust with your Oregon trucking injury case is an experienced truck accident lawyer.
If you have an Oregon Semi truck crash, Oregon log truck injury crash, Oregon garbage truck injury crash, Oregon bus injury crash, or other commercial vehicle crash, do not waste time. Unlike most car crash cases, prompt investigation is critical to an Oregon trucking injury case. Trucking accident cases are often complicated by out of state trucking companies, leases of parts of the vehicle that may be dropped off within hours, or out of state drivers that can be very difficult to find as time passes. Some drivers even give false information. Without prompt action, these commercial drivers can be nearly impossible to track down. Fill out the free trucking accident case review form to speak with a Oregon trucking injury lawyer. Or, if you prefer, call our trucking lawyer today at (503) 227-1233. The consultation is free and if you decide to hire us, you do not have to pay us for our legal fees unless we recover money for you.
Truck Accidents
Trucking Accidents in Oregon and Washington
The Federal Motor Carrier Safety Administration (FMCSA) reports statistics of truck crashes in the United States. In 2014, 3,978 large trucks and buses were involved in fatal crashes, a 5 percent decrease from 2013. There was an increase in the number of fatal crashes caused by trucks or buses of 20 percent between 2009 and 2013. From 2013 to 2014, the number of large trucks involved in injury crashes increased by 21 percent, from 73,000 to 88,000. The rate of large truck involvement in injury crashes, increased by 21 percent. To review more statistics on trucking and bus crashes in the United States, see this report from the U.S. Department of Transportation.
For a state population of 3.5 million, Oregon has a high number of car crashes and trucking accidents. In 2014 (the most recent numbers available) 35 people died, and 568 were injured due to trucking crashes. This number is expected to rise in the future due to the increase in Oregon's population. The county with the most truck crashes is Multnomah County. The County with the most truck fatalities is Douglas County. There are some areas that have consistently been problematic in terms of trucking crashes: The Eugene Area, including I-5 trucking crashes (particularly in the area of mileposts 168-208), Tualatin Trucking Crashes and Portland Trucking Crashes in the I-5 area (between Milepost 289 to 300), West Linn Trucking Crashes and Clackamas Trucking Crashes, including I-205 Trucking Crashes between Mile Post 8-14), Emigrant Hill Trucking Crashes (also known as Cabbage Hill Trucking Crashes) – I-84 Trucking Crashes between Milepost 219 and 228, and Deschutes Country Trucking Crashes including US-20 Trucking Crashes in the area between Sisters and Bend Oregon. We accept Oregon trucking crash cases in all of these areas. We also accept cases as Oregon trucking crash lawyers in other problematic areas, including Oregon trucking accidents in Siskiyou Summit on I-5, Weaver to Roberts Mountain on I-5, Salem on I-5, Hood River to Mosier on I-84.
For a state population of 3.5 million, Oregon has a high number of car crashes and trucking accidents. In 2014 (the most recent numbers available) 35 people died, and 568 were injured due to trucking crashes.
If you want, you can review the safety rules pertaining to trucking in Oregon. The number of trucking-related deaths in Washington State is similar to Oregon. Though many personal injuries on Oregon and Washington roads are relatively minor, some, unfortunately, are extremely traumatic and trucking injuries are among the worst. Semi-truck, logging truck, and other commercial vehicle accidents often result in serious physical injuries, brain and spinal cord injuries, paralysis, or even death. These are the trucking injury cases our trucking lawyers typically handle.
Some collisions do not result in serious personal injury or require a lawsuit. However, you should always be aware of, and protect, your legal rights and options. One of the goals of leading Oregon truck accident attorney Aaron DeShaw is to minimize the problems of dealing with insurers. Many deny reasonable treatment, or push injured people for a quick settlement. When insurers do this to you, they may not reveal all of the benefits or coverage available.
If you or a loved one has been seriously injured in a semi-truck accident, bus crash, or log truck-related accident, you should seek the guidance of a knowledgeable and experienced trucking accident lawyer.
Truck Accidents
We Can Help
When it comes to truck accidents in Oregon and Washington, Dr. Aaron DeShaw Esq can help. Extensive experience in representing seriously injured people in these type of collisions allows our trucking injury lawyers to better help clients who have received head injuries, brain injuries, inner ear injuries, neck and back injuries, amputations, paralysis, paraplegia, quadriplegia, or death. Hesitating in pursing your case may prevent you filing a claim for injuries, under what is called a "statute of limitations."