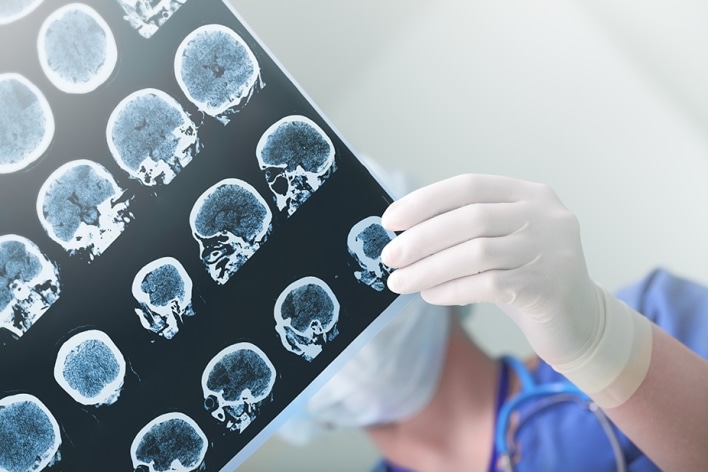 Our lead trial lawyer is best known as an Oregon brain injury lawyer. Approximately 95% of our firm's clients have sustained a traumatic brain injury. We have become known by doctors, other lawyers, and the Brain Injury Alliance of Oregon for handling brain injury cases, and this is how most clients find out about us.
We are experienced and well versed in representing brain injury survivors and their families in legal cases. DeShaw Trial Lawyers have handled hundreds of traumatic brain injury cases including insurance settlements, mediation, arbitration and jury trials on behalf of people who have sustained a traumatic brain injury. These cases involve everything from mild traumatic brain injuries to severe traumatic brain injuries. We also handle cases involving seizures or neurodegerative conditions after a traumatic brain injury.
If you or a loved one has suffered a brain injury or is the survivor of a brain injury accident, then please contact us.
Brain Injury
Oregon Brain Injury Lawyer
Brain injury cases are special to our firm. Dr. DeShaw donates his time as a board member at the Brain Injury Alliance of Oregon, a support network of health care providers and brain injury survivors. He consults for free on many cases per year with injured people and their families where he is not involved as the lawyer. But, where he really shines is in understanding our client's injuries, and helping them to move forward in the best way possible for their life.
DeShaw is one of few lawyers in Oregon who belong to the Brain Injury Litigation Group of the American Association for Justice. This group allows us to keep up to date with the latest brain injury research.
Our staff is educated and experienced in helping brain injury survivors, recognizing the challenges that people with traumatic brain injuries experience. Even our office is specifically designed with brain injured people in mind, avoiding certain types of lighting and patterns that can impact those with vision changes or photophobia (sensitivity to light) after a brain injury.
We accept only cases that require our expertise, so that we can focus our attention on those people who need us most. This allows us to have a quiet and calm atmosphere for brain injured clients who are sensitive to noise or who become overwhelmed easily.
We take an exceptional amount of time with our clients at the first meeting. Usually, this involves between an hour and five hours face to face with your lawyer, not a staff member. This helps us to understand the type of symptoms you are having and how we can best help you.
While our staff will help you with day to day issues on your case, our lawyer is very involved in advising you throughout the time we handle a brain injury case, often does research on unique issues in cases, handles the settlement letter to the insurer, as well as all aspects of deposition, trial preparation and trial if the client is not made a reasonable settlement offer by the insurance company.
Brain Injury
A Law Firm That Understands Traumatic Brain Injury Cases
Our firm handles a small number of brain injury cases every year to a successful conclusion. We understand the problems associated with these injuries, and counsel clients and their families through the serious changes that take place after a brain injury.
We also work on large brain injury cases nationally. In addition to handling hundreds of traumatic brain injury cases as a lawyer, Aaron DeShaw has an additional doctorate degree that required over 4,000 hours of classroom instruction, including over 700 hours of classroom instruction on issues pertaining to traumatic brain injuries including gross anatomy, neuroanatomy, neurophysiology and neurological diagnosis.
He has continued to build on this education by reading new articles nearly every day on traumatic brain injuries, neuropsychology, advanced brain imaging, neurology, cognition, memory, and on legal issues pertaining to brain injury cases.
In his brain injury cases, he has gone head to head with several well known insurance defense neuropsychologists and psychiatrists, challenging the use of unqualified test technicians who are performing testing in litigation cases, as well as discrediting the use of the "Fake Bad Scale" which insurers and their doctors attempt to use to discredit legitimately injured people.
In addition to lecturing for the public, injured people and health care providers (including the VA) for free, DeShaw is known in the physician and legal communities for lecturing nationally on the topics of traumatic brain injuries, the defenses used by insurance companies and their doctors in traumatic brain injury cases, and in advanced brain imaging.
His educational video for doctors and lawyers on a variety of commonly missed traumatic injuries, was released by legal publisher Trial Guides.
Brain Injury
Brain Injury Cases are Different
A brain injury can have permanent personal and economic impact on the brain injury survivor. These may not be apparent at first. These can include huge future medical bills, as well as a future loss of employment even if the person remains employed directly after the crash.
Statistically it is known that even with a non-severe cognitive disability, a person's earning capacity and quality of life will be significantly impacted. Behavioral changes after brain injury can have an even larger effect on the person's quality of life, future relationships with friends and family, as well as employability. For this reason, it is important that someone with a traumatic brain injury consult with an Oregon brain injury lawyer who understands the long term consequences.
Brain Injury
Brain Injury Information
A brain injury can have devastating effects on injured people, their family, their friends, and their workplace. The additional brain injury pages on this web site are a brief summary of our firm's extensive experience on the topic brain injuries. In addition, check the our blog posts for updated information on brain injury topics.
This information is intended to assist members of the community, as well as those with brain injury symptoms, by providing a better understanding of the symptoms they experience after trauma. This information is not intended to serve as medical advice, and you should see a doctor immediately if you believe you have sustained a brain injury.