After years of denying its airbags are defective, one of the world's largest manufacturers of auto parts, has finally acknowledged that Takata airbags are a defective product. Takata, based in Japan, has manufactured approximately 30% of the airbags in cars on the road. Millions of cars today threaten to seriously harm drivers who could be hit by an airbag either in a crash, or during a spontaneous airbag deployment.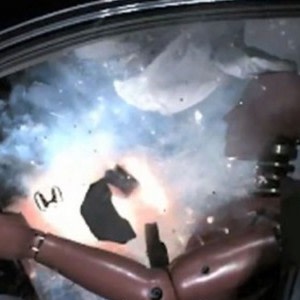 Defective Takata airbags have resulted in multiple deaths so far, as well as hundreds of serious injuries in which metal shrapnel has flown out of the airbags upon deployment. Some of those killed by the airbags have had their skull crushed, and others have permanent facial scarring as a result of the airbag explosions. The defective airbags, first recognized by Honda as far back as 2008, have now resulted in an investigation by NHTSA, as well as a Congressional investigation.
As Reuters reported in January 2014, Takata had quality problems with the airbags early on:
Takata has acknowledged to U.S. safety regulators that it improperly stored chemicals and botched the manufacture of the explosive propellants used to inflate airbags. It also has conceded to Reuters that, in at least one case, it kept inadequate quality-control records, which meant that hundreds of thousands of cars had to be recalled to find what might have been only a small number of faulty airbags, a decade after they were made.
During a Congressional hearing yesterday, Takata executives stunned representatives when it admitted that it was continuing to use ammonium nitrate powder its new replacement airbags, even though Takata said the compound was "certainly a factor" in some of the injuries. Ammonium Nitrate powder, an inexpensive propellant can explode, a flaw that former Takata engineers have told lawmakers should have prevented its use in passenger cars.
Takata will gradually switch over to a different compound used by competitors, though a Takata executive testified the firm was using the old one to speed the production of millions of replacement airbags to put in recalled vehicles.
Takata said tests on the airbags have yet to prove that Ammonium Nitrate was solely at fault, and new air-bag parts will also use a drying agent, called a desiccant, that Takata says is proven to help. But lawmakers still questioned whether the firm was putting costs ahead of driver safety.
"The replacement could be as dangerous as the current," said Rep. Jan Schakowsky (D-Ill.), who had held up a defective Takata airbag, punctured with torn puncture holes. "Why even replace it?"
Approximately 34 million cars and trucks, or about 1 in 7 on America's roads, have been recalled because Takata airbags can blast shrapnel when deployed and have led to airbag explosion deaths and other serious airbag injuries. If you have sustained an injury as the result of a defective Takata airbag deployment, and are looking for a Takata defective airbag lawyer, feel free to call us at (503) 227-1233 for a free consultation.
The recall is being called the largest product recall in history. Some of the cars carrying defective Takata airbags include mid-2000s BMW 3-Series models; some mid-2000s Ford Mustangs and Rangers; mid-2000s Subaru Bajas, Legacies and Imprezas; early 2000s Toyota Tundras, Corollas and Sequoias; early 2000s Nissan Maximas, Sentras and Pathfinders, as well as various Infinitis; early 2000s Mazda6s and RX-8s; and nearly every model Honda and Acura made in the 2000s, including Accords, Civics, CR-Vs, and MDXs.
Because Takata and other manufacturers cannot manufacture airbags quickly enough to replace all of the defective ones, people will be forced to continue driving vehicles with the defective Takata airbags until they can be replaced. Please check your vehicle here to determine if your vehicle has a defective Takata airbag. You can check for this recall and others on your vehicle at the NHTSA web site.
So far, the Washington Post notes the following as a partial list of vehicles carry the defective Takata airbags:
BMW 3 Series Sedan 2000–2005
BMW 3 Series Coupe 2000–2006
BMW 3 Series Sports Wagon 2000–2005
BMW 3 Series Convertible 2000–2006
BMW M3 Coupe 2001–2006
BMW M3 Convertible 2001–2006
Chrysler 300 2004–2008
Chrysler Aspen 2004–2008
Dodge Ram 1500 2003–2008
Dodge Magnum 2004-2007
Dodge Ram 1500 2003–2008
Dodge Ram 2500 2004–2007
Dodge Ram 3500 2004–2007
Dodge Ram 4500 2006–2008
Dodge Ram 5500 2008
Dodge Charger 2004-2007
Dodge Durango 2004–2007
Dodge Dakota 2004–2007
Ford Ranger 2004-2005
Ford GT 2005-2006
Ford Mustang 2005–2007
GM Pontiac Vibe 2003–2005
GM Saab 9-2X 2005
Honda Acura MDX 2003–2006
Honda Acura TL 2002–2003
Honda Acura CL 2003
Honda Acura RL 2005
Honda Accord 2001–2007
Honda Civic 2001–2005
Honda CR-V 2002–2006
Honda Element 2003–2011
Honda Odyssey 2002–2004
Honda Pilot 2003–2007
Honda Ridgeline 2006
Infiniti I30/I35 2001–2004
Infiniti QX4 2002–2003
Infiniti FX35/FX45 2003–2005
Infiniti M35, M45 2006
Mazda 6 2003–2008
Mazda Speed 6 2006–2007
Mazda RX-8 2004–2008
Mazda MPV 2004–2005
Mazda B-Series Truck 2004
Mitsubishi Lancer 2004–2005
Mitsubishi Raider 2004–2007
Nissan Maxima 2001–2003
Nissan Pathfinder 2001–2004
Nissan Sentra 2002-2006
Subaru Baja 2003–2005
Subaru Legacy 2003–2005
Subaru Outback 2003–2005
Subaru Impreza 2004–2005
Toyota Lexus SC 2002–2007
Toyota Corolla 2002–2007
Toyota Matrix 2003–2007
Toyota Sequoia 2002–2007
Toyota RAV4 2004-2005
Toyota Tundra 2003–2006
In the event you or a loved one has sustained an injury in a Takata airbag deployment, and you are seeking a Defective Takata airbag lawyer, feel free to call us at (503) 227-1233 for a free consultation.